Welcome!
Your first session starts at 9:30. You will be receiving SIX hours of work directly with coaches instead of the usual 3.5 hours, and you will still receive all the additional workshops!
We can coach you live regardless of your current situation, as simply as by your speakerphone if you prefer.
If you would like our assistance in upgrading your connection or home equipment, let us know! We are happy to help. You may delay your live coaching sessions until after we have helped you upgrade or troubleshoot your home setup.
If you are already in the process of upgrading your home studio, see all our home studio articles.
No matter what your skill set, there are voiceover jobs you can successfully compete for.
Your Expo workshops will provide the training options that YOU want most—even if you are not sure what you want yet.
We will teach you how to practice and prepare via home study, although you will get better faster by taking professional training as opposed to home study only. But we will teach you how to study on your own for free!
Speaking generally, the strategy we recommend is to start with easy-to-get low-paying work, and build your skills over time to be able to successfully compete against more experienced talent. There is a LOT of work of all kinds available, and it is possible to earn a significant annual income from voiceover as a side business in your first year by pursuing less competitive, easier-to-get low-paying work initially.
However, if your goal is eventually to compete against talent with months or years of practice or training, you will likely need to practice or train for awhile to become competitive.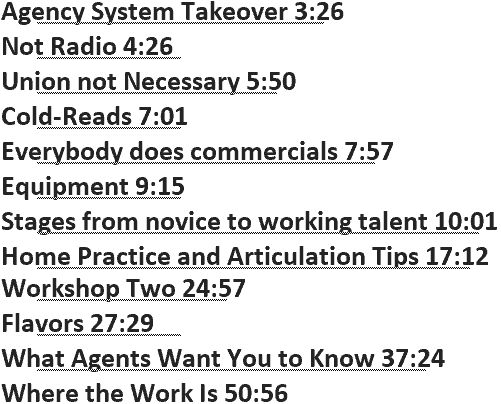 To be a great voice actor, follow a great voice acting process!
We follow a 3-step process:P 1) Warm up, 2) look at the script, 3) talk to a person. Click the tabs above for a summary of each step.
You have to open your range! You must have MORE range available than you need—a LOT more!
A simple exercise to do is to play both people in a simple scene. Ten 4-line warmup scripts are below.
In each script, the bold lines are the first voice, italic is the second voice. Perform a few of these out loud, following these range ideas:
Do the first voice as insane gibberish, the second as hyper-normal.
Be very emotional, but not shouting. Play the voices as two different people.
Make the first voice VERY energetic, the second voice very intimate. Practice making a HUGE energy shift from the first to the second.
You will do as I say
I don't wanna go!
There is nothing you can do!
You can't make me
I'm excited!
I'm not
Not again
Give me a break!
Oops.
What?
Nothing.
Really?
How could this happen?
It's nothing
How can you say that?
Get away from me!
Are you nuts?
Of course not
This is insane
You're the real problem
You're about to be punished
I'm in charge here
You need help
This is really stupid
It's no big deal
You don't understand
You're overreacting
This isn't working out
This is a disaster
You're such an idiot
You don't understand
I can't take this anymore
I'm not angry
You're not fooling anyone
Leave me alone
There you go again
You've got to be joking
It's going to be fine
Don't tell me that
You're losing your mind
Mark the major transitions in the script. Try performing the transitions only.
What changes? Make SURE you can make a BIGGER shift than is required AND stay loose and authentic. Generally, practice going from something big to something small—what we call the "Off-The-Cuff Drop".
Label the different "flavors" of the different sections. Make sure you are using your range—shift frequently—don't get locked into vocal patterns. Work with acting approaches as needed to determine how to solve the acting issues you are finding.
Take whatever approach necessary to incorporate a conversation into your performance. Don't wait to solve challenges until you are performing the script. Do that in the first two steps. When performance begins, this is the time to sound like a real person talking to another real person.
Six Acting Approaches for Voiceover: Introduction