Need help with a home studio? See all our home studio posts here. Tax tip: The fees online marketplaces charge you are tax-deductible.
Just want to see where the gigs are? Click HERE. Sites below are 99% focused on the U.S. and Canada. Projects with multiple languages, or primarily NOT English are increasing all the time, but English is still required in 90+% of projects. Websites that offer multiple languages are generally not the best place for voice talent who only speak English to find work (clients go to websites specializing in English when they want English-only voiceover).
Some types of website that to help talent find work include:
Paid marketplaces
Forums
Volunteer organizations
Job Search sites
Casting Services
Company "rosters" or "showcases" 
1. Paid marketplaces
This is primarily what we cover below. Some take a percentage of whatever work you get through the marketplace (ranging from 5%-70%), others charge a fee—known as pay-to-play, or P2P.
2. Forums
Most of these are free. Some that have been around a long time are active and helpful, though generally the most active forums have moved to Facebook groups.
Generally, if there is a charge to join the forum, it is not worth it—often it is essentially a scam or constitutes a fee to put your info online which you could do for free at a free online website maker like wordpress.com. Some forums are a combination of forum (place for people to chat, ask questions, help others, etc.) and a marketplace (place for clients to post auditions for work they are trying to cast). Many forums that concentrate most on animation work are a combination forum/marketplace. Click here to see some recommended animation sites. If you are just starting out in animation, we recommend auditioning for multi-character fiction audiobook work instead to get paid faster for your skills.
3. Volunteer Organizations
You can provide your voice over services for free to organizations like Librivox. There is a list of these organizations at the bottom of this page. We do NOT recommend working for free. People often say they want to "get my feet wet" or "get experience".  We recommend instead working briefly at lower-paying marketplaces to build a short list of paying clients and/or auditioning for animation or audiobook work while ALSO auditioning for work on higher-paying marketplaces. Volunteer only to help others—for charitable purposes—and because you love doing it. One exception would be to volunteer on short audiobook work to be able to list yourself as an experienced audiobook talent and producer, and to gain experience using roll-and-punch functionality in Audacity (or similar software). Roll-and-punch is how you fix errors seamlessly in real time while recording, without having to to edit your recording later, i.e. your recording will be accurate to your performance standards when you are done.
4. Job Search Sites
There are NOT a lot of "voice over" or "voice actor" jobs posted at traditional job search sites, but the job search aggregator Simplyhired.com shows most of them. Also check out Craigslist below. Some URLs to try include:
• Simplyhired.com/search?q=voice+over&l=Remote
• Simplyhired.com/search?q=voiceover&l=Remote
• Simplyhired.com/search?q=voice+actor&l=Remote
• Simplyhired.com/search?q=voice+talent&l=Remote
5. Casting Services
Not a kind of website that helps you directly, but one that connects clients (people with the project money) with talent agents. Your talent agent then gives you the script so that you can audition for the project.
These are part of the middlemen/gatekeepers in the business that make it advantageous to have an agent.
These services are worth knowing about, because if you have an agent, you need to know that YOUR demo may be listed here for potential clients to hear. Here is an example of one of these services.
6. Recording Studio or Training Company Rosters or Showcases
A con as old as their have been actors goes like this:
B-movie music begins playing and Sam, the cigar-chewing grizzled old con artist walks onto stage "Hire me and I'll make you a star, kid! Everybody in this industry knows Sam!"
In the VO industry, the way it works is not necessarily a scam, but usually the same difference. They promote how they will get you work in order to get your money…but no one they "promote" gets any work. Usually it's an offer to promote you via a "listing" or through their "contacts". Yes, you might get work from being listed somewhere, and it always looks good, but it's usually just a clever step to help them make a profit for the studio by doing demos or demo updates for newbies, or make a coach seem more able to help you, e.g. "train with me and you'll get listed here".
Often they start by reaching out to you about being "listed" or "added to the roster" and when you engage with them, they talk to you about updating your demo or your training. So it seems free at first…just update your demo. With them. Or read this article…which tells you to take their class. Or they may not have a specific website they will list you on, but they will "promote" you to their contacts and clients.
It's not directly connected that you have to pay to be listed…but everyone listed has paid. And generally no one is getting paying work via that listing. Sometimes they legitimize and promote themselves by reaching out to working talent who have a strong following on Social Media. It IS a free and risk-free deal for that big name to be listed. Or they harvest emails and send out a few bulk emails every you promoting the talent on their listing.
Remember, in a room of people only there because of money you paid, all of whom have years of experience while you have none, the odds that you look like a sucker to them are very, very high.
Another example of this is they put you in front of industry pros who can cast you. This is certainly a gray area. Some of these pros will work with that 1-in-1,000 talent that comes in front of them—if they could help you at all. But they are NOT there looking for talent. They are there because they are simply a different version of a paid coach. It's simply another way for their industry connection to earn them money from a training program for new folks. The better it looks, the more it costs.
They may be a decent studio, or a decent coach,  but do NOT pay them for their services because of their promise to make you money, to get you "seen", or "listed". The most famous example of this are the John Casablancas Centers. (Ask any legitimate agency what they think of Casablancas).
What do you need to get started?
There are tons of ways to find voice over work. But first you need:
▪ Samples of your work (demo)
▪ A way to share your work with prospective clients (website)
▪ A way to record and produce work for clients (home studio)
▪ Membership in a GOOD online marketplace
▪ An understanding of fair rates
▪ Learn about marketplace ranking algorithms so you can move up in internal search results
I'll cover these briefly in order:
DEMO: Read the rules for getting a demo here, and learn how to make your own demo here.
WEBSITE: Here's a sample of a WIX.COM voiceover website you can create by yourself in just a few minutes. This video covers the first steps to creating a Wix.com website. If you want to try WordPress instead, click the links in the left column at this website to go step-by-step.
HOME STUDIO: Click here, or scroll to the bottom of this post for more info.
ANIME/ANIMATION-SPECIFIC: Check out the "5 Blue Butterfly" sites below for tons of paying audition opportunities.
WHERE TO START: There are lots of sites purporting to help talent find work, and helpful forums such as VO-bb.com and other sites worth knowing such as VOAgentalliance.com, but in the list of dozens of sites below, I concentrate on places well-known to help you get work or connect to those that can help you. Note that site owners and reputation change all the time! Also realize that Pay-to-play (P2P) sites have their own strategies, see P2P tips and more P2P tips. Generally, only audition/submit early, when the number of requested auditions are under the limit. Here are two lists of sites if you want to do more research: one, two.
FAIR RATES: Examples • How to negotiate. How much do online jobs pay? Pretty decently at the better sites. Here are some examples with dates from screenshots of gigs after the 2018 relaunch VOPlanet, where nearly 1/4 of the gigs shown are in the $1,000-$6,000 range, and almost all available to non-union men or women. The image below is an edited summary. Actual listings on VOPlanet include much, much more detail on each gig. Posted with permission of VOPlanet owner Kevin West.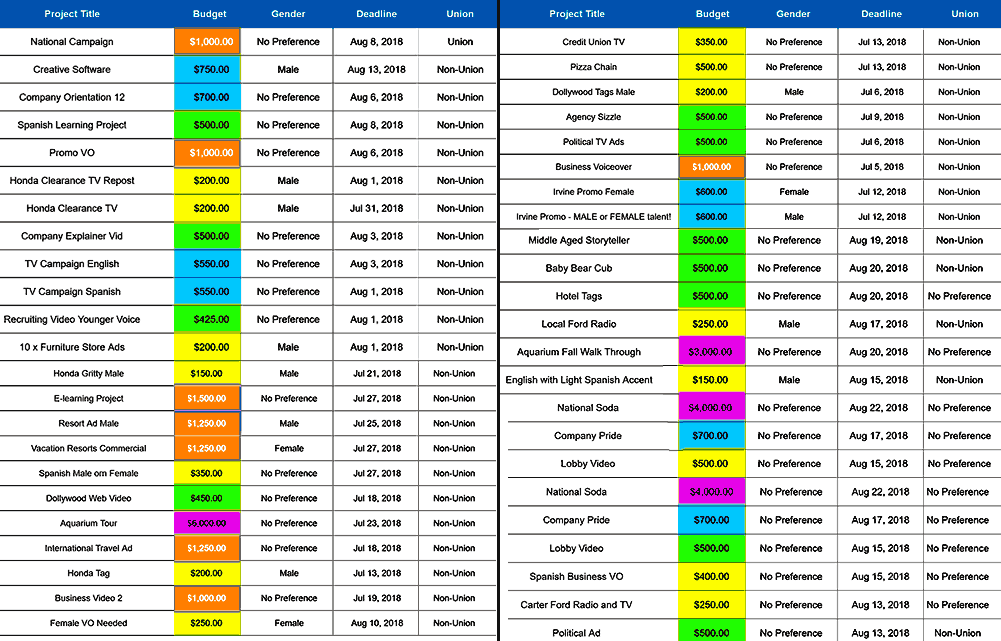 To find in-person work near you, search for advertising and recording studios near you. Here are 558 example results from the Twin Cities one • two • three • four. (You can possibly also search for "talent roster.") Call them and say "I do voiceover and live in the [your city name here]. Do you have use for a voice like mine?" VoiceActing101 also shares many, many ways to seek out work in a post you can read here.
RANKING ALGORITHMS: When you join a site, it knows nothing about you. So each of the first things you do weigh very heavily on the internal ranking of "is this person worth having here?"
Never join a site unless you're ready to work. If you join and do nothing, all they know about you is that you do nothing.
Within reason do ANYTHING your first client wants you to do, for example, give them free proofreading. Because your first client is 100% of your "how does this person deal with clients" ranking in the site's algorithm.
Third, if you are already on a new site and feel you got off to a bad start, consider restarting with a different email and slightly different profile instead of quitting altogether.
But: Every site is different. Some don't have a formal internal ranking system. Just realize for now that all of the first things that you do are 100% what create your reputation, and your reputation is what affects your results.
 The BIG List:
These sites primarily work in American English, not British or UK English (e.g. we don't provide info about sites such as voiceovers.co.uk greatbritishvoices.co.uk londonvoiceover.com voiceovers-uk.com, etc.) There are more multi-lingual gigs every year. Info on the dozens of sites below is current as of 2018/2019. Key:
🛴 = Best for beginners
📜 = includes union
💲 = P2P ("Pay to play"—This means you must pay to join)
🚩 = Difficult to get into / pre-screens / special requirements
🎬 = High number of auditions per paying gig (200-500)
🦋 = Primarily animation / audio drama. Warning: Low rates are common
😡 = Unethical or unprofessional practices, high markups or low rates
⛔ = Unpaid or unpaid volunteer (you work for free)
💲🚩🚩📜 🎬VOPlanet ★ FAQ1 ★ FAQ2 ★ FAQ3 ★ Signup ★ Facebook ★ WoVo Partner ★ 2018 relaunch ★ Pros only:
"We go through those that register and double-check credentials, demo quality etc. If a talent is not quite ready, we give them guidance and a refund."
Example high-paying paid gig from this site: In late January 2019, a $10,000 self-directed corporate narration was posted. It was 10 5-minute $1,000 videos for "healthcare review."
🚩🚩🚩📜 SelectVO.com Casting site for talent agents. Talent can NOT signup here. Probably the most successful site attempting to replace VoiceBank.net to provide auditions to Talent Agencies. Begun in late 2018.
🚩🚩📜 Voice Casting.com ★ FAQ-Signup ★ New Owner 2017 ★ Connected to VOPlanet
💲🚩📜VoiceOver.Biz / WoVo ★ Requires WoVo membership★ Member signup
Indeed Job Boards ★  VO Job Postings ★ often not remote work, VO mixed in with non-VO results
🚩VOQuent ★ FAQ ★  Signup ★ Rates ★ Mostly international, rather than U.S.-Specific
💲🚩🚩VoiceBooking.com ★ FAQ ★ Signup ★ Well-established, but not primarily English
💲🚩🚩📜 Voiceovers.com and Voice Casting Hub ★ How memberships and categories work • HUB FAQ – Signup • About Voiceovers.com • Interview 1 • Interview 2
The hub is free, and is where top agents hear unsigned talent (to audition or book projects you must have an agent). Most U.S. agencies work with the Hub. But as of February, 2020, we've been hearing that "the HUB for agencies" is are being slighted in favor of other priorities, so they may be losing their agency connections. Voiceovers.com opening in early 2019 to a limited selection of talent and, P2P, plus takes 20% commission, plus offers a "Gold" level membership, which has not worked out well at other P2P sites.
💲📜 Backstage Magazine VO Auditions ★ Better beginning in 2020 ★ Cost ★ View Current
ANIME/ANIMATION Primarily:
💲🎬🦋 Casting Call Club ★ Q&A ★ Free option ★ Signup ★ FAQ ★ Open Gigs (scroll down)
🛴🎬🎬🦋 Behind the Voice Actors (BTVA)  Signup ★ Casting Call
🎬🦋 Voice Acting Club ★ Unpaid GAME ★ Paid GAME
🎬🦋 Voice Acting Space ★ Current Auditions ★ FAQ ★ Signup
🎬🦋 Voice Chasers  ★ Job Postings
🦋 Gamedevmarket Voices ★ A place to sell your "package" of pre-recorded voices • low-paying, with no way to increase rates (unlike Fiverr) link
🛴 "All of Craigslist" Searches ★  Sample listing ★ Try different search terms: Tips
🛴 LinkedIn Job alerts ★  Sample How To ★
💲 Bodalgo ★ FAQ1 ★ FAQ2  Signup (in 2019 many are noting "very few auditions here anymore")
🚩Upwork ★ 10% avg gig fee (5-20%) ★ FAQ ★  Signup ★ Began charging to audition in April, 2019 ★ Low-paying work mixed in with better-paying work ★ Ever-increasing fees
💲🚩VoicesUS ★ FAQ 
🚩🚩📜 🎬 Voiceovers.com and Voice Casting Hub ★ How memberships and categories work • HUB FAQ – Signup • About Voiceovers.com • Interview 1 • Interview 2 • "A positive attempt at creating a new marketplace that didn't quite work.
Voiceovers.com opening in early 2019 to a limited selection of talent and, P2P, plus takes 20% commission, plus offers a "Gold" level membership, which has not worked out well at other P2P sites. The hub is free, and is where top agents hear unsigned talent (to audition or book projects you must have an agent). Many U.S. agencies work with the Hub.
🛴 ACX Audiobooks ★ FAQ ★ Signup ★ Tips 😡 Warning: many scams in 2020, long delays in approval. Objectionable content may be hidden. Website crashes, long waits for approval
💲🚩VoiceHunter.com, PodcastAccess.com ★ $500 for 2 years to be "featured" at VoiceHunter. Marketplaces created by the radio show and talent agency manager Adam Goodman. Agent required to be listed, though if they approve of your submission and you are NOT repped, they will refer you to CentralVoiceGroup to be repped by them. Studio access and full-length demos required of all submissions. We haven't yet found talent who have gotten work here, though more than one has received legitimate auditions. They do market themselves to talent, e.g. "we have selected you to pay us money for a listing" kind of emails have been received by some talent, which is considered by some a not a good sign.
😡 Envato Studio ★ 30% gig fee ★ FAQ ★ Signup
😡💲🎬📜 Voice123 ★ FAQ ★ Signup ★ Relaunched late 2019. Large marketplace with many complaints
😡🛴 Fiverr  ★ Low per gig but often high effective hourly, even higher than union for some. Also many achieve $300+/gig averages once qualified • Best for getting initial clients to brand oneself as a 'working talent', then moving to other marketplaces
😡🚩 VoiceOver Profiles ★ FAQ ★ Showcase for talent trained by coach Guy Michaels, not actually a marketplace open to talent. Read #5 in the introduction for how these work.
Not recommended:
😡😡💲 Mandy Voices ★ was good, now isn't ★ Free option ★ FAQ ★ Signup ★ formerly Voices Pro
😡😡 VoiceJockeys ★ FAQ ★ 50% gig fee, low-paying, no negotiation, they encourage clients to offer low rates
😡😡 The Voice Crew ★ Site ★ 45-50% gig fee
😡😡🚩 Voice Bunny/Bunny Studio ★ 70% gig fee ★ Paid Auditions
😡😡😡 Voice Jungle ★ Low-paying, with no way to increase rates (unlike Fiverr), started by ProComm in 2012
😡😡😡 Still researching, but poor reviews so far, most not primarily US English: GMVoices ★ VoiceArchive ★  VoiceTalentOnline ★ VoiceGiant ★ Voiver ★ DirectVoice
😡😡😡🚩🚩💲💲📜 The Voice Realm ★ Unprofessional, antagonistic: One ★ Two ★ Three ★ Four ★ long wait★ low rates★ Example from Oct'2020, according to a private forum post "We have reported the Voice Realm to the Union and Twitter for libeling well known UK voices and agencies, calling them the most appalling things."
😡😡😡😡💲💲🎬📜 Voices.com ★ FAQ1 ★ FAQ2  ★ Up to 93% "hidden" fee (i.e. skimming/stealing) ★ typically 250-500 auditions to win first gig
😡😡😡😡 Cosmic Global Limited ★ Known for NOT paying. Primarily translation services, voice over is a sideline

😡😡😡😡 VoxTab ★ Known for NOT paying. Primarily translation services, voice over is a sideline
😡😡😡😡😡 CoVoCo ★ Basically a scam
🛴 LinkedIn, Facebook, Twitter, YouTube ★ Tips ★ Have a business profile! People search for voice over—be in the search results!
Unpaid / Volunteer Only:
⛔ Librivox ★ Record portions of Audiobooks ★  Introduction for voice talent ★  General FAQ ★ They offer public exposure by listing volunteers in their search engine, as well as the opportunity to promote themselves and their websites at the beginning or end of each recording. Volunteer opportunity types: Reader (voice talent) • Editor • Proof-Listener • Book Coordinator • Meta Coordinator • Listener • Moderator
⛔ Learning Alley ★ FAQ ★ Record at their locations.  Helping schools support students who struggle to read well. Formerly Reading for the Blind and Dyslexic, founded 1948. More than 6,000 volunteers across the U.S.
⛔ Gatewave ★ FAQ ★ Record from home ★ Read news, websites, etc. for listeners who are blind, visually impaired or reading disabled 
⛔ Canadian National Institute for the Blind (CNIB): www.cnib.ca
⛔ Audio Internet Reading Service of Los Angeles: www.airsla.org
⛔ Other possibilities: Start your own online radio drama or join up with one ★ Volunteer to read at local libraries and hospitals ★ Volunteer work list 
What Happened to My Favorite Site?
Have information you'd like to share? Let me know and I'll research it and update the list with what I find. Thanks!
Online marketplaces tend to get worse over time. Why? Three groups who want different things have to be kept happy:
Talent
Clients
Site Owners
Keeping all of these groups happy is hard. For example, letting more talent into the marketplace can lower overall quality, making clients unhappy, but making more money for site owners (particularly if the site is P2P). Conversely, only letting top talent into the marketplace makes clients happy, but can make it hard for site owners to have enough profit to do the work needed.
So sites often go downhill and then get bought out, reboot or figure out better ways to fool talent. We use a variety of sources, often comments from working voice talent in forums, YouTube reviews of sites by working talent, a wide variety of searches on social media, as well as reviews by by bloggers, etc.
Home Studio
You generally MUST use a condenser microphone to record voiceover. There are some special mics that are exceptions to this rule, but they're fairly expensive so we'll skip them in this discussion.
While "USB mics" seem cheaper (they plug right into your computer, no mixer or adapter needed), the quality you'll need starts at over $200 and you can get the same quality for much less total outlay.
See all our latest equipment  recommendations here.
MICROPHONE
One that is incredible for its price is the under-$100 MXL 2006 and (even cheaper) MXL 2008 from Marshall Electronics (MXL), the company that builds many popular mics for other companies. This is a mic designed for voiceover—it sounds awesome: deep tones without heaviness and a silky, never harsh top end. Listen to amazing audio comparisons of it (click here and choose the "Downloads/Videos" tab) with other mics that cost up to $2300 (if you can't tell the difference—and you won't—buy this mic!)
An even more amazing microphone value is the under-$40 BM-800. one of many "knock offs" of the AT2020.
ACOUSTIC BARGAINS
You'll need to quiet background noise and echos by placing some material around to deaden both. The best option is to record in a clothes closet. If you want to place material that is NOT clothes around, buying towels from a Goodwill or other used/charity store turn out to be one of the most inexpensive AND effective materials. Here's a video of some acoustic tests and how to add the towels into sound panels.
A folded towel at least four layers thick absorbs the most sound from all frequency ranges compared to many other inexpensive materials. So, do this and ignore all other info!
For spaces that need a lot of insulation, Roxul Safe 'n' Sound has effective sound absorption (pdf data sheet, NRC=1.05, FAQ) and is inexpensive (60 sq feet for under $50!), but, being compressible wool insulation, can be tricky to work with—keep it out of your eyes, make sure you always have it covered / wrapped. Source for this info: http://www.voiceresults.com/#equipment