Guide to Online Voiceover Work in North America

Just want to see where the gigs are? Click HERE. Sites below are 99% focused on the U.S. and Canada. Projects with multiple languages, or primarily NOT English are increasing all the time, but English is still required in 90+% of projects.
There are tons of ways to find voice over work. But first you need:
▪ Samples of your work (demo)
▪ A way to share your work with prospective clients (website)
▪ A way to record and produce work for clients (home studio)
▪ Membership in a GOOD online marketplace
▪ An understanding of fair rates
I'll cover these briefly in order:
DEMO: Read the rules for getting a demo here, and learn how to make your own demo here.
WEBSITE: Here's a sample of a WIX.COM voiceover website you can create by yourself in just a few minutes. This video covers the first steps to creating a Wix.com website. If you want to try WordPress instead, click the links in the left column at this website to go step-by-step.
HOME STUDIO: Click here, or scroll to the bottom of this post for more info.
WHERE TO START: There are lots of sites purporting to help talent find work, and helpful forums such as VO-bb.com and other sites worth knowing such as VOAgentalliance.com, but in the list of dozens of sites below, I concentrate on places well-known to help you get work or connect to those that can help you. Note that site owners and reputation change all the time! Also realize that Pay-to-play (P2P) sites have their own strategies, see P2P tips and more P2P tips.
FAIR RATES: Examples • How to negotiate. How much do online jobs pay? Pretty decently at the better sites. Here are some examples with dates from screenshots of gigs after the 2018 relaunch VOPlanet, where nearly 1/4 of the gigs shown are in the $1,000-$6,000 range, and almost all available to non-union men or women. The image below is an edited summary. Actual listings on VOPlanet include much, much more detail on each gig. Posted with permission of VOPlanet owner Kevin West.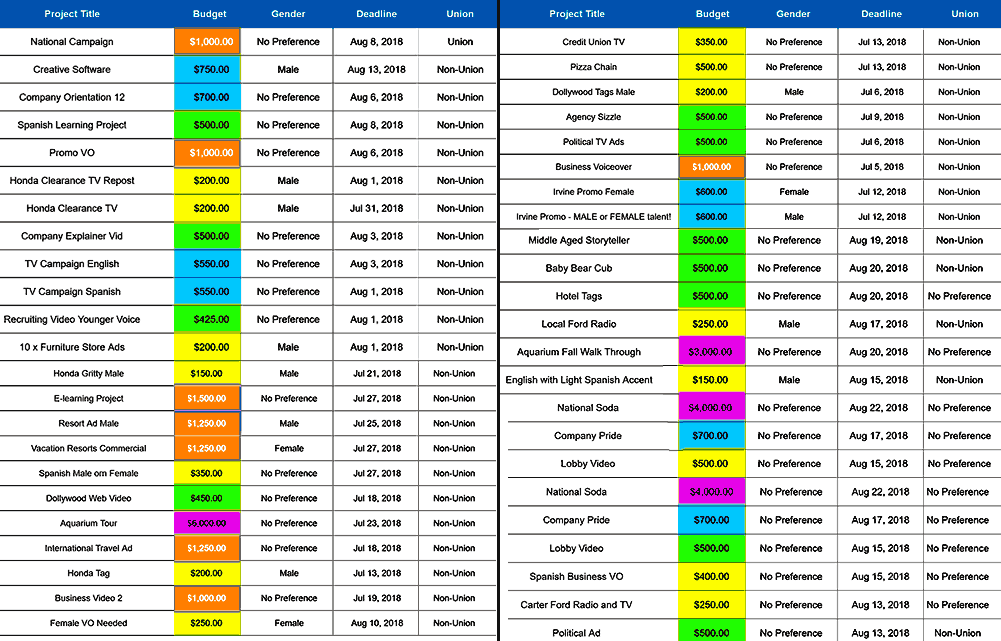 To find in-person work near you, search for advertising and recording studios near you, and possibly include the search term "talent roster." Call them and say "I do voiceover and live in the [your city name here]. Do you have use for a voice like mine?" VoiceActing101 also shares many, many ways to seek out work in a post you can read here.
---
The BIG List:
Info on the dozens of sites below is current as of late 2018. Key:
🛴 = Best for beginners
📜 = includes union
💲 = P2P ("Pay to play"—This means you must pay to join)
🚩 = Difficult to get into / pre-screens / special requirements
🎬 = High number of auditions per paying gig (200-500)
🦋 = Primarily animation / audio drama. Warning: Low rates are common
😡 = Unethical or unprofessional practices, high markups or low rates
🚩🚩📜 Voice Casting Hub ★  FAQ – Signup
Where top agents hear unsigned talent. To audition or book projects you must have an agent.
💲🚩🚩📜 VOPlanet ★ FAQ1 ★ FAQ2 ★ FAQ3 ★ Signup ★ Facebook ★ 2018 relaunch ★ Pros only:
"We go through those that register and double-check credentials, demo quality etc. If a talent is not quite ready, we give them guidance and a refund."
💲 Bodalgo ★ FAQ1 ★ FAQ2  Signup 
🚩Upwork ★ 10% avg gig fee (5-20%) ★ FAQ ★  Signup
Indeed Job Boards ★  VO Job Postings
🚩🚩📜 Voice Casting.com ★ FAQ-Signup ★ New Owner 2017 ★ Connected to VOPlanet
💲🚩📜VoiceOver.Biz / WoVo ★ Requires WoVo membership★ Member signup
🛴 "All of Craigslist" Searches ★  Sample listing ★ Try different search terms: Tips
💲🎬🦋 Casting Call Club ★ Q&A ★ Free option ★ Signup ★ FAQ ★ Open Gigs (scroll down)
🎬🦋 Voice Acting Space ★ Current Auditions ★ FAQ ★ Signup
🎬🦋 Voice Acting Club ★ Paid GAME ★ Unpaid GAME ★ Other unpaid ★ other paid
🎬🦋 Voice Chasers  ★ Job Postings
🛴🎬🎬🦋 Behind the Voice Actors  Signup ★ Casting Call
🛴 ACX Audiobooks ★ FAQ ★ Signup ★ Tips 😡 Warning: Objectionable content may be hidden
💲🚩VoicesUS ★ FAQ 
Envato Studio ★ 30% gig fee ★ FAQ ★ Signup
😡🚩📜 Backstage Magazine VO Auditions ★ Mostly NOT work from home ★ View Current
😡💲🎬📜 Voice123 ★ FAQ ★ Signup ★ Expensive Platinum Membership Option
😡🛴 Fiverr  ★ Low per gig (But $300+/gig once qualified)
😡😡💲Mandy Voices ★ was good, now isn't ★ Free option ★ FAQ ★ Signup ★ formerly Voices Pro
😡😡 VoiceJockeys ★ FAQ ★ 50% gig fee
😡😡🚩🚩💲💲📜 The Voice Realm ★ Unprofessional: One ★ Two ★ Three ★ Four ★ long wait★ low rates
😡😡😡🚩 Voice Bunny ★ 70% gig fee ★ Paid Auditions
😡😡😡😡💲💲🎬📜 Voices.com ★ FAQ1 ★ FAQ2  ★ Up to 93% "hidden" fee (i.e. stealing)
🛴 LinkedIn and Facebook ★  Tips
Home Studio
You generally MUST use a condenser microphone to record voiceover. There are some special mics that are exceptions to this rule, but they're fairly expensive so we'll skip them in this discussion.
While "USB mics" seem cheaper (they plug right into your computer, no mixer or adapter needed), the quality you'll need starts at over $200 and you can get the same quality for much less total outlay. So what does a mixer do?
Your mixer will come with two cables: One plugs into your computer, and the other into a wall socket for power. You'll need to buy the cable to plug your mic in. It's called an XLR cable, and just ONE XLR cable brings both power and the computer audio connection to your mic.
A good USB mixer is the Behringer XENYX502 5-Channel Mixer. For under $8, get this 6-foot XLR cable to connect the mic to the mixer. (Shorter cables are less likely to introduce hum).
MICROPHONE
One that is incredible for its price is the under-$100 MXL 2006 from Marshall Electronics (MXL), the company that builds many popular mics for other companies. This is a mic designed for voiceover—it sounds awesome: deep tones without heaviness and a silky, never harsh top end. Listen to amazing audio comparisons of it (click here and choose the "Downloads/Videos" tab) with other mics that cost up to $2300 (if you can't tell the difference—and you won't—buy this mic!)
An even more amazing microphone value is the under-$40 BM-800.
ACOUSTIC BARGAINS
You'll need to quiet background noise and echos by placing some material around to deaden both. The best option is to record in a clothes closet. If you want to place material that is NOT clothes around, buying towels from a Goodwill or other used/charity store turn out to be one of the most inexpensive AND effective materials. Here's a video of some acoustic tests and how to add the towels into sound panels.
A folded towel at least four layers thick absorbs the most sound from all frequency ranges compared to many other inexpensive materials. So, do this and ignore all other info!
For spaces that need a lot of insulation, Roxul Safe 'n' Sound has effective sound absorption (pdf data sheet, NRC=1.05, FAQ) and is inexpensive (60 sq feet for under $50!), but, being compressible wool insulation, can be tricky to work with—keep it out of your eyes, make sure you always have it covered / wrapped. Source for this info: http://www.voiceresults.com/#equipment