New student: read ALL the "install" and "record" tabs. Expect to spend not much more than $300 if just starting.
Equipment from us is for students only—not available to the public. First paid first served. Be in touch by email, text, phone or PM to schedule if you are picking up (just West of Minneapolis).
Scroll down to read what equipment we recommend, and how to set it up.
We provide a variety of individual help and support to our students.
We can remote connect to help you with recording or computer issues, evaluate your home studio from pictures, or even take a walkaround through your home studio with our augmented reality app! Click a tab above to get started. 
Next Step: Home Studio Setup
Scroll down to learn how to get started, or click one of these links:
Home Studio Setup: 🔨 Choose Your Studio .. 🔩 Stand+Arm .. 🎤 Mic+Mixer ..  Vertical Supports
How To Record: 🎤 Learn to Record .. 🎧 Audacity .. 🔊 Better Sound ..⚡ Mixer
Want live help? Click the tab above to get the live augemented reality video app.
Ready to start your home studio space?
Start by sending us FOUR pictures. Take a picture from behind the mic looking out (#1), and one from a distance away looking in (#2). We need to see the whole room. Take a picture of your mixer and microphone as well (#3 and #4) showing how your microphone is mounted, and how the microphone cable is routed.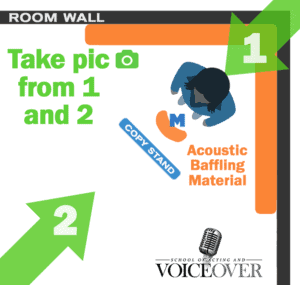 For Audacity or your Computer:
Request to schedule tech support help from your coach during a session, or by email or text, and they will send you a code to enter below. They will remote connect to your computer and assist you.
For Mac Users:
You may need to authorize the HelpDesk application. Mac OS Catalina requires user permission for applications to access privacy sensitive data. Hence you need to grant accessibility permissions to HelpDesk. To authorize Helpdesk:
Open System Preferences and go to 'Security & Privacy' pane.
Select 'Accessibility'.
Click the lock

 

 

and provide system authentication to allow changes.
Select the checkbox next to 'RemotePCHDDesktop'.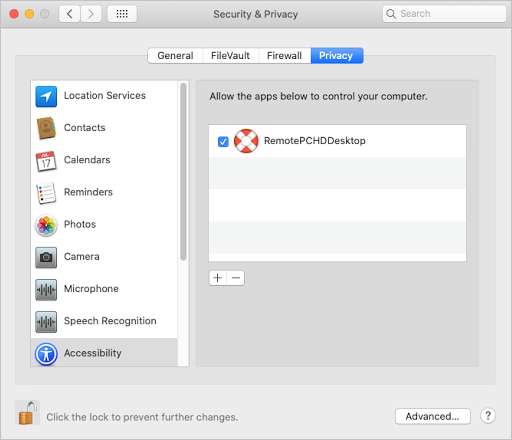 Click any tab above to see recommended equipment. Prices vary (see our latest research), but contact us for this week's lowest price deals that we've found around the web. Expect to pay $300–$340 for equipment in late 2022, and $60–$90 for studio materials. We keep some inexpensive materials that are cheaper to get from us than elsewhere, so we'll point that out when sharing options.
—————
If you want to make your own acoustic baffles, we provide the instructions, but pillows are better dollar-for-dollar, and are nearly as good when comparing square footage as well.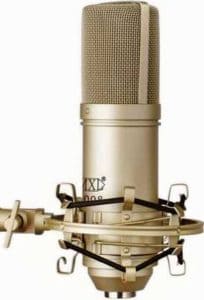 🎧 Condenser Mic Specs
What are good specs?
Generally, only condenser mics are sensitive enough for voice over.
But VERY sensitive Condenser mics (with large diaphragms) pick up too much mouth and studio noise, and those with too smaller diaphragms pick up too little of the richness of the human voice.
25mm or larger are sometimes called LDC, meaning "Large Diaphragm Condenser" (the diaphragm is the membrane that vibrates in response to sound). Bigger than that is usually NOT better because of being TOO sensitive. Too much smaller usually means not sensitive enough.
Minimum standards for voiceover condenser mics are usually considered to be:
Unidirectional condenser with narrow polar pattern, cardioid or super-cardioid.
Diaphragm Size: 25mm or larger
Self-noise: Less than 19dB-A ("Equivalent" noise)
Sensitivity between -43 and -32dB-A.
Sensitivity closer to zero (-31,-30,-29 etc.) will give you trouble with mouth noise. (Sensitivity range in mV/Pa — between 7 and 25, greater than 25 is a bit much).
Common specs:
Self noise: 16dB-A
Diaphragm: 25mm
Sensitivity: -35dB
The LDC 26mm diaphragm Behringer B-1 has a low self noise of 13 dB(A) (excellent) and sensitivity of -34 (good, almost a bit much).
These are all professional Large Diaphragm Condenser (LDC) Microphones comparable to the Hogan Signature Series 1-A. 
These mics are all recommended when priced under $100. Of the V67 series, only the 67/67G/V67GHE or V67P are recommended. The V67GS is NOT recommended. Many other microphones costing more (such as the V67i or Behringer B1 /specs) are also fine, but we are restricting our recommendation to these high-quality but low-cost mics. Many other LDC-type mics are also great for voiceover, like the Sterling SP150.
► What about Blue Yeti Microphones? This is a common question. Scroll down for more info.
Also, only the 992 is recommended, the similar 990 and 770 are NOT recommended. If you can't find any of the other mics at good price, the V67M is also acceptable, but works best with a very quiet studio.
The 992 has very slightly the lowest self noise, which makes it slightly preferable. MXL is the brand name for pro audio gear made by Marshall Electronics. When comparing prices for yourself, pay attention to extras that are/are not sometimes included such as case (not needed), shock mount (somewhat needed) and pop filter (needed). You can always buy extras separately.
Current low price: around $80 each (tax, shipping and handling included). Pictured: MXL 2001/2006/2008.
Why these microphones?
Listen to comparisons of these mics by well-known voiceover engineer George Whittam to the famous $3,600 Neumann U87 and other famous voiceover mics.
Those audio comparisons, backed up by a bunch of research on my part, are the key reason why we recommend the MXL mics. They're all based on Neumann!
The MXL 2001/2006/2008/V67 circuit uses "negative feedback," similar to the Neumann U87, to provide corrective EQ to the K67 capsule.
The MXL 2001 was one of the first inexpensive condenser microphones on the market. It mated a version of the Neumann K67 large-diaphragm capsule to a transformer-coupled amplifier circuit.
It's K67-style capsule has an outside diameter of 32mm, intentionally dropping the size from Neumann's original (34mm) to push the capsule's resonant frequency higher in the audio spectrum.
Also, many of these MXL mics are private labeled by Guitar Center, Musician's Friend, Music 123, and elsewhere. The MXL mics have the same internals, mostly only differing in in the shape of the body and headbasket; internally, they share the same circuit and capsule.
Next—About Other Microphones:
What About The Blue Yeti?
Almost any mic that you can set up to work while standing is fine for training, the Yetis included. Note that most Yetis do NOT easily attach to a standard arm or stand, but with some zip ties, tape or other tricks, you can make it work.  The Blue Yeti Pro is passable for some kinds of voiceover. Any other Yeti you should plan to upgrade sooner rather than later.
With a Yeti, you are paying for a wide range of configuration possibilities (multiple mics/diaphragms inside), rather than for one higher-quality mic/diaphragm. Any Large Diaphragm Condenser (LDC) mic is better than any Yeti, but because LDC mics are more sensitive, you need a better home studio if you go with an LDC mic.
For that reason, we often tell talent who already have a Yeti that we're fine if they want to wait to upgrade to an LDC mic until they are making money, but that they will very likely have to make improvements to their studio when they get a more sensitive mic.
Acceptable USB Mics
The Apogee MiC 96K (2014, upgrade from the 2011 previous model, the Plus USB) is a 
Less-Acceptable Mics
If you do use a USB mic like the Yeti to start with, realize you will likely need to improve your studio when you switch to a more sensitive traditional voice over microphone—it will pick up more echoes and background sounds from your studio. And attach it to a mic stand or boom arm so you can work standing like a professional!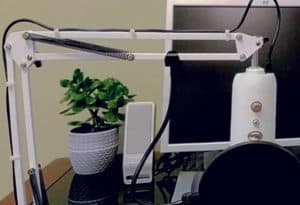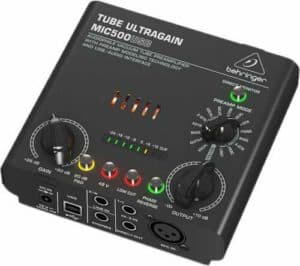 🎧 Studio Console-Level Power
Every power supply must be balanced (why?)—and most are. But not all provide true 48V Phantom Power (sometimes called "Studio Console-Level Power"). Many only provide 12v or 18v instead of 48v, and even those providing 48v often provide very limited amperage!
We recommend the Behringer TUBE ULTRAGAIN MIC500USB Vacuum Tube Preamplifier. I love the one I use myself. This is better than some $150 mixers for under $100. Check out the specs in the simplified manual here. Also, the Behringer VOICE STUDIO Bundle which includes the MIC500USB is sometimes on sale for less than the cost of the MIC500USB alone. 
►Some sellers to NOT include the USB cable you should use to connect this to your computer. Using a preamp with a USB output is important. If you connect to your computer via an analog audio cable, the analog-to-digital  (A/D)conversion will take place in the internal sound card, which is not optimized for this purpose like the A/D converter inside the preamp is.
Specifically designed for studio-grade condenser mics, with voiceover preamp modeling to optimize your sound.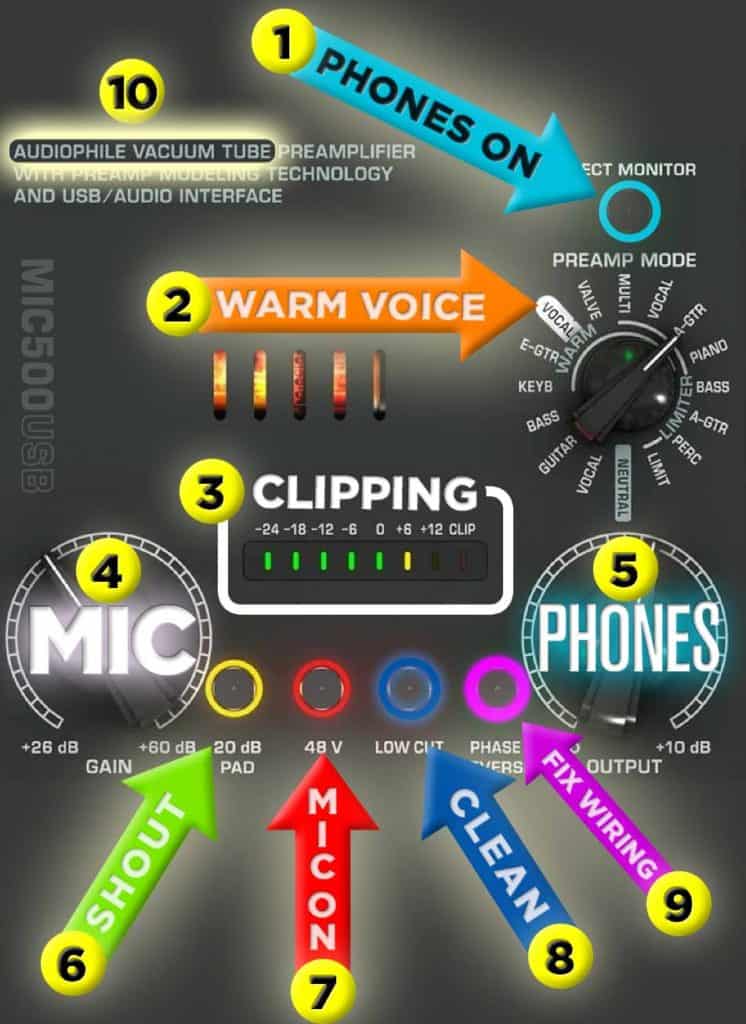 🎧 FOUR-Conductor Balanced XLR
Your power and XLR cable must be balanced, but your XLR cable should contain FOUR conductors, not just two (here's why).
The 4 conductors of Quad technology help prevent wiring or grounding issues as well as RFI interference, producing a superior signal to noise ratio that effectively acts as noise cancellation. More about why a Quad cable is better.
If your mixer/pre-amp (phantom power source) has a USB out, you also may need a USB peripheral cable—like what a USB printer uses. Some people will disconnect the cable from their printer to connect their power source to the computer until they can buy or borrow another USB peripheral cable, such as this one on Amazon.com.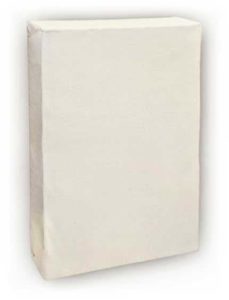 🎧 NRC 1.05 Acoustic Panels: 10 sq. ft. ea.
► Save over $60 PER PANEL vs cheap acoustic foam, and over $150 vs comparable high-quality foam.
TOP-RATED (NRC 1.05—this is the good stuff!) lightweight plain acoustic panels easy to hang, mount, place or store (conforming to ASTM C423 testing). Read more about how acoustic baffling works here.
Note that even the THICKEST popular acoustic panels, such as these 4″ deep panels from Amazon, are often MUCH less noise absorbent (only 0.8 compared to these at 1.05), and are MUCH more expensive. Higher numbers are better! Amazon's price if you have prime free shipping is $74.75 for 10 sq ft—nearly $60 MORE for LESS sound absorption!
We assemble these inexpensively from 3-inch thick Rockwool Safe'n'Sound so you can get started without spending ridiculous acoustic foam prices. Note that "thickness" and depth are NOT the same thing. The Rockwool baffling is a solid 3″ thick. In foam panels, 4-inch "thick" panels vary in thickness from 1/4″ up to 4″ due to their "corrugated" form. So 4-inch DEEP is more accurate than "thick" when speaking of panels.
► Current Price: $16.00 ea. (10 sq. ft. ea.) or $59.88 for your first four.
What's inside:

FABRIC:
Use the thinnest fabric you can find if you use fabric to cover the insulation. Contact us if you'd like some—we often have some extra in stock (we buy in bulk for a better deal).
Fine-mesh netting is ideal acoustically, but will not reliably hold in the insulation (pieces can get into the air), and since the insulation is harsh on your skin and lungs, we don't recommend using netting. Pretty much ALL fabric stores have a lot of discount coupons—such as for installing their app—so be sure to use a discount code when ordering from a store. 
To build your own, scroll to the bottom of this article for instructions. Sample diagram: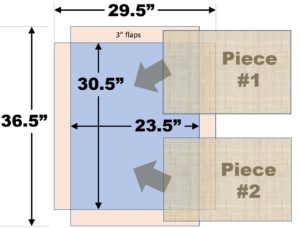 🎧 Do I NEED Open-Back Headphones? probably? • Read this article for tips
🎧 Articulating (scissor) microphone boom arm (we have lots, otherwise eBay • Amazon). Can be attached to copy stand, desk edge or many other configurations. Recommended instead of a separate mic stand: has a wider variety of uses, and is less expensive.  Great for working standing up or sitting down.
🎧 Adjustable low-sound reflection copy stand. You attach the boom arm to this. In general, most copy stands are NOT tall enough for voiceover. Everyone ends up modifying them—see the picture below at left for one example. You could buy a separate mic stand instead of an articulating arm, but it would be more expensive and less able to be useful in multiple situations, such as attaching to a desk or closet shelf.
🎧 Double-paned pro 6.1″ pop filter • we have plenty (ebay) 360-degree flexible 13.6″ gooseneck • Swivel clamp base. Current price: $9.97
🎧 Additional on-mic pop filter • 5-pack from Rycote (sources here). Check to see if we have extra we can spare before purchasing. Handy for reducing mouth sounds when you get closer to the mic.
Pictures: At left is the cardboard the stand was packed in taped onto it to make the copy holder higher.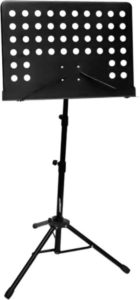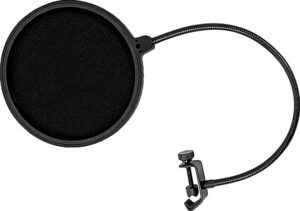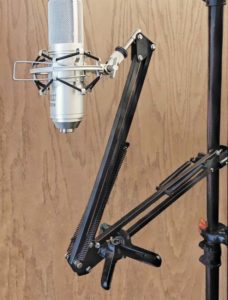 ► Use Audacity 2.4.2 or later for Mac, or scroll down for instructions on using earlier versions
Important Audacity tip for Mac users!
Make sure you have the latest version of Audacity for Mac, 2.4.2 or higher. Download here.
If you do NOT have the latest version of Audacity, here are the old instuctions for making it work. But: better to IGNORE THESE INSTRUCTIONS, and instead use the latest version of Audacity!
Here are the old instructions:
On the latest macOS (Catalina/10.15/Late 2019) you just need to give Audacity permission to use the microphone, and don't close Audacity. It's easy! You just have to open it via the "open" command. Here's how:
If you haven't already, install the latest version of Audacity from AudacityTeam.org/download/mac. (If you want to update an older version of Audacity, it works the same as installing new—just download and install.)
Make sure Audacity is NOT running. If it is open, close it. Here's how to open it—from the Mac Finder (picture below), you want to got to Applications, then Utilities, then click on Terminal. A small window opens.
Paste this (after copying, to paste, simply click Cmd-V) when the terminal window and press enter:
open /Applications/Audacity.app/

Contents/MacOS/Audacity

Audacity should open, and a small prompt should appear asking you to give permission to use the microphone if you have one plugged in. If you don't have a mic connected, the prompt may not appear until you plug one in and click Transport > Rescan Audio Devices. Whenever the prompt appears, click to give permission to Audacity to use the microphone.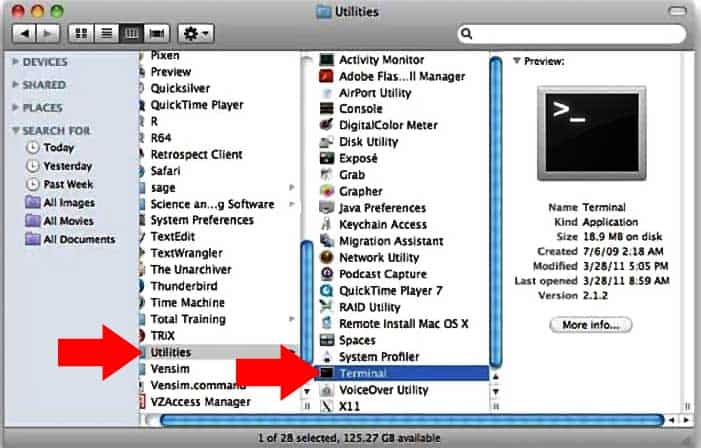 Leave Audacity Open?
Easiest: Leave Audacity active—(black dot) in the bottom dock —don't close it! That way you can just relaunch from the Audacity logo, and you won't have to give microphone permissions each time.
However, if you totally quit Audacity, it's okay, just a minor hassle. You simply have to relaunch from the Terminal app again—meaning you have to redo steps 1-3 again.
IF YOU LEAVE AUDACITY OPEN: You'll need to chose rescan audio devices from the Transport menu (click on the word Transport near the top of the Audacity window) anytime you plug in a device such as a headset, microphone, speakers, etc. and then choose which device you want to use to record through (such as a microphone, headset, microphone plugged into a mixer, etc) and which device you want to play back through (such as speakers, headset, etc.).
For more info on selecting devices in Audacity, see select your recording device.
Mac Microphone Auto-Shut Off
For security reasons, you can't close the lid on a Mac and keep recording. iPads have a similar security feature. Explained here:
"All Mac portables with the Apple T2 Security Chip feature a hardware disconnect that ensures the microphone is disabled whenever the lid is closed. On the 13-inch MacBook Pro and MacBook Air computers with the T2 chip, and on the 15-inch MacBook Pro portables from 2019 or later, this disconnect is implemented in hardware alone. The disconnect prevents any software—even with root or kernel privileges in macOS, and even the software on the T2 chip—from engaging the microphone when the lid is closed. (The camera is not disconnected in hardware, because its field of view is completely obstructed with the lid closed.) iPad models beginning in 2020 also feature the hardware microphone disconnect."
Alternative Method
On your Mac, choose "Apple menu > System Preferences, click Security & Privacy", then click Privacy.
Click Microphone.
Select the tickbox next to the Audacity app to allow it to access the microphone. (Do not deselect the tickbox to turn off access or the mic will not work).
Long story short, for text-heavy pages, you want larger font sizes. If folks are reading for long periods of time, be nice: don't make them strain their eyes. Now, each font is different, even at the same size, but we're talking: