Make a Commercial from ANY Voice Over
No prior experience needed! (Just want to sign up? Click here to signup). This is a production-only class; there is no live recording during class.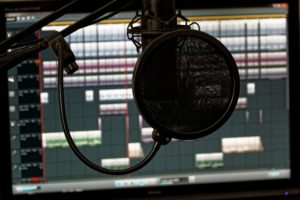 In the first five minutes, each student will make a complete commercial clip with music, sound effects and then turn it into a video! This voiceover dad made nearly $1 million in five years with these skills. Adding production to voiceover skills is really a no-brainer nowadays.
It's so brain-dead simple because of the awesome resources we have access to. Including FREE audio and video editing software.
What You'll Learn:
Whether you bring your laptop or not, you'll learn how to:
Make your own commercial voiceover demo(s) using Audacity and the AudioBlocks music library.
Earn while you learn! Make demos for other talent. There are jobs for this immediately—let me know if you're interested.
How to analyze a performance and a script to create the perfect sound design of music and sound effects. (Learn how to use the Worksheet for Creating Emotional Sound Design)
Make money doing commercials for clients. There are almost 300 ad agencies in the Twin Cities.
Best of all, we'll share how to get into the over two billion dollar annual business of corporate, internet and e-learning videos both as a voice talent and as a producer!
You'll come away with both Audio editing skills in Audacity and music and sound effects matching skills, and some video editing skills as well! We'll offer advanced skill classes later in May and June.
What You'll Need:
Bring a laptop if you can, but everyone who attends will have a chance to create a commercial regardless. If you want to use your own voice over audio, make sure you can access it from that laptop. We'll provide everything you need otherwise.
You'll need copyright access to music and sound effects to have license to put audio on your computer, so choose an AudioBlocks subscription length at the bottom of this page. ALL the audio you use during class is YOURS to keep forever, with complete, unlimited copyright for ALL uses by you, the copyright owner.
If you're bringing a laptop, install the latest version of Audacity for audio editing (for Windows • for Mac • Linux). Be sure to open it at least once before you arrive so you know how to open it. And once you receive your AudioBlocks subscription login, be sure to login before class on the laptop you'll be bringing.
After we receive your registration, we'll send you some additional resources and instruction. Come ready! We're going to make a complete commercial in the first five minutes.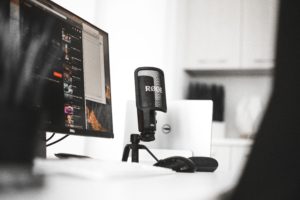 Where to Go:
This is a LIVE, in-person class with hands-on training by Dave and Sarah Larson. The location will be just West of Minneapolis. We'll send you an email before the class with the exact location, and confirm by text or phone. The class will take place either at the School of Voiceover Training Center, or the Hopkins Center for the Arts Upstairs Classroom.

Question or need before signing up? Let us know!