Speech Practice: Vocal Delivery for Voiceover
Vocal Delivery Resources
For Students
Your coach will tell to generate a list of words and phrases to work on. This post is a free online course about how to do that. We offer free support for any issues you have. Call or email (use any email you have for us) your questions, but only AFTER reading this ENTIRE post and working on things.
Every time you stumble, anything you notice in listening back, anything anyone tells you when you ask them if you have an accent or don't say some words clearly, anything from the list at the bottom of this article. This is all covered below.
Then your coach will help you with any challenges you have in finding words and phrases, or working on them. Most students who do this can come up with 4-10 words or phrases every time they practice two scripts, five minutes each. So practicing ten minutes each day, most students have over 100 words and phrases within a few weeks.
However: When your coach tells you to generate a list of words and phrases to work on, and says "Get back to me with your list" you must do this, or ask any questions you have.
Sometimes students don't get back to their coach with their list or questions. Your coach is waiting for you. They're not going to call you and say "where's the list?" You have to do this and get back to them. Of course, if you think you are waiting on your coach, you would get in touch to ask, right?
1. Things you MUST practice ⭐⭐⭐ (Crucial!!)
What's the biggest mistake in fixing pronunciation, diction or accent? It's OVER-emphasizing short, quiet sounds. Most commonly, the "schwa" sound—the most common vowel sound in English—a very short neutral sound. (What's a schwa?) You must be nearly perfect at fixing short sounds and contractions.
For example, "Today I am going to downtown" will often be spoken casually as "T'day I'm goin' duh downtown". The main skill is to give it same cadence, rhythm and feel but pronounce it as "Today I am going downtown". You must NOT over emphasize the "o" in "to", the "a" in "I am", or the g sound ("ing") in "going".
The harder part in correct pronunciation is NOT getting the sound right, but getting the stress right (cadence, rhythm and feel).
The classic exercise for this is to repeat "T'day I'm goin' duh downtown" twice, then say, with the same feel and cadence, "Today I am going to downtown". Get the feel of the rhythm and then change the pronunciation. Repeat in threes:
T'day I'm goin' duh downtown
T'day I'm goin' tuh downtown
Today I am going to downtown
Practice in the car. Also practice catching yourself in daily, casual speech and NOT dropping "g"s in words ending in "ing".
2. Fixing Pronunciation
At the end of this article are 101 commonly mispronounced words. each word in the list can be clicked to hear how it should be pronounced (turn your sound on). Click here to take a look and then scroll back up to here.
To fix your pronunciation, follow these steps:
Find words to practice
Listen to correct pronunciations
Try to impersonate what you hear. Concentrate on getting the RHYTHM (cadence) right. It's harder to fix how you are stressing syllables than to simply change pitch. So get the stress right, which "feels" like practicing the RHYTHM of the word.
Here are more places to hear audio of words being spoken, but ►make certain you are listening to the AMERICAN ENGLISH pronunciation—some are in UK or Canadian English.
When using these resources, listen to AT LEAST three. Some of the reads are not quite done in a way that is helpful. If two are identical, use those. If one is a little different, ignore that one.
3. How to Find More Words to Practice ⭐⭐⭐ (Crucial!!)
You will never work in professional voiceover if you don't do this on your own. We require it of all advanced students.
Your OVERALL articulation and OVERALL accent will improve by working on whatever words or word groupings that you have trouble with.
You must make a list of hundreds of words or word groups (2-5 words) that you don't say correctly, whether articulation, accent, pronunciation, emphasis—ANY kind of "miss". Practice these daily AFTER you do your acting practice. (Don't practice speech while practicing acting!)
Practicing tongue twisters doesn't count! You MUST make a list from your own speech issues. By doing that, you are diagramming your vocal delivery process without having to pay a speech therapist. Your eventual goal is to have the near-perfect speech of a top voiceover professional. EVERYONE can improve their speech.
When you get a recording after a coaching session, listen to find any problem words or groupings. (Of course you will have already written down any you already suspect or you coach points out to you.) *Every* time you have ANY kind of "miss" when reading out loud write down the word or words that you had an issue with.
In practicing any script, when you have ANY issue, write down the one-to-five words involved. Often the problem is how two or three words fit together, a tongue-twister-type problem, and not simply a single word issue. Your goal is to COLLECT WORDS! So don't say "I'll get that right next time". Write down ANYTHING that ever causes a stumble. The bigger your list, the better you get. You should eventually have over 300 items.
Keep updating your list of the words you have trouble with, and PRACTICE THOSE WORDS! Don't give up because you're unclear on what to do! Your GOAL is to find out WHAT IS HARD and get help so you can work on those items more than other items. Click here to set up a call (existing students click here instead) and/or use some of the resources above and below when you feel stuck…even if you get stuck right away. Get help!
*Every* time you have ANY kind of "miss" when reading out loud write it down. It's not about whether you CAN say something correctly and clearly, it's about which things falter occasionally in practice.
Over time, sort the list from easiest to hardest and practice the words/word groupings that are more difficult more often. Get help with the hardest ones. Do NOT give up on anything because it's so difficult you can't seem to get anywhere with it repeatedly. Get help. (For example, the "fish sauce shop" portion of "Mrs. Smith's fish sauce shop" can feel impossible to some. Work until you master it, with help if needed.)
Skip down to #3 for more on what to practice. Why should you do this yourself? Why can't a coach help you fix when you work on mic? Because you can't work on acting when you're thinking about diction and accent until you are experienced working on diction and accent. You must gain diction and accent skills SEPARATELY from acting skills, or your acting skills are going to suck. Plus, it's VERY EASY to find words/word groupings from your recording! There are a lot of minor issues in every session when you're learning.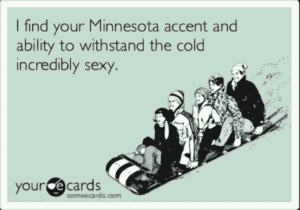 4. Oh, Ya: Fix a Rural Accent Y'all
At our Midwest training center, we work with "rural"-type accents (Minnesota, Southern, Greater Appalachia, etc.). With these, the first step is to shorten your vowels on accented words. An example and an important one to fix is "ing" sounding like "een". Don't say you're go-een downtown!
Outside urban areas, speech is more relaxed, sounds are drawn out, everything takes a little longer. City dwellers are in a bigger rush, generally.
So how is speech slowed down? Mainly vowels. Shorter, punchier, sharper "staccato" sounds (the "k" sound, for example) can't be easily stretched. Slower, more "legato" vowel sounds are easily drawn out, however. In fact, often shorter, punchier vowel sounds (think of the "i" in "it") are mispronounced to make it possible to stretch them out and slow down speech. You also have to accurately pronounce those vowels. For example, pronouncing "oats" in a Minnesota accent starts a bit like "oo". To pronounce "oats" correctly, you need to form your mouth as if you are going to so say "oh" and not "oo".
But the hardest thing to fix when slowing down a sound is the length of syllables has changed: the RHYTHM (stress/cadence) of the word has changed. So first you must concentrate on feeling how the RHYTHM (stress/cadence) has to change. And the first step is shortening vowel sounds on words that have a rural accent, such as the Minnesota "o" in, e.g. "Oooh yaah".
5. Practice Tips and Tongue Twisters
For tricky words in a session, actually point at the words as you say them. For general articulation practice, hold a pencil or pen with your back teeth and say difficult words several times, then remove and your words will be smoother. Open your mouth wider, and relax your jaw.  For example, your "s" sound can change depending on how tightly your jaw is set/clenched.
Tongue Twisters do NOT help unless you also practice specific speech exercises. You will NOT get better speech if all you practice is tongue twisters.
However, they are good if use them to learn to troubleshoot problems. A classic example is
Mrs. Smith's fish sauce shop seldom sells shellfish.
To troubleshoot the "fish sauce shop" portion, you have to speak two SH/S pairs, from fiSH to Sauce and then from the "s" sound at the end of sauce to SHop. This is a very common type of troubleshooting issue. Fix it by making one of the syllables in a pair of problem syllables quieter and shorter.
For example, instead of saying "fish sauce" try saying "fish auce", dropping the "s" in "sauce". Then try to let the "sh" in "fish" linger a little into a bit of an "s" sound. In this way, you can get the "s" sound to happen clearly without getting a "slushy" sound when switching between them.
Another problem is a kind of "focus fatigue" when syllables that are nearby but not right next to each other are similar. Try saying "Dame Judi Dench" a few times in a row to see how hard it can be. This is like the classic "Red leather, yellow leather" that you can say it once or twice but not repeatedly.
To solve this problem in a script, first, make a mark in the script! Pros make more marks on their scripts, beginners make fewer marks. Second, relax and don't rush your speech. Finding the right speed is crucial! Practice repeating not just slowly, but clearly. For example, go very, VERY slowly (but speak naturally, not like you are drugged) until you can repeat  "Dame Judi Dench" accurately ten times in a row. You'll find that the main problem is that you will fail to control your speed—you will speed up—and then you will stumble. Learn to maintain a relaxed speed.
Here are two sites to find tongue twisters ONE • TWO.
6. Vocabulary-Improving links:
English vocabulary resources:
If you want to study a variety of vocabulary lessons AND be able to choose your level,
Here are some specific resources for learning to speak better, oriented around vocabulary and idioms (common phrases)
7. About forming words
Short version: open your mouth more up and down. Most people don't do this well. Relax and drop your jaw and lift up with your smile muscles. Scroll down to the video below to see how Rick Party relaxes and lowers his jaw in his Facebook video
Frankly, a lot of "knowledge" about articulation isn't necessary to start fixing things. Articulation (Wikipedia) is the movement of the tongue, lips, jaw, and other speech organs (the articulators) in ways that make speech sounds. But here are a couple of diagrams about things people ask about.
Some other links to help improve your vocabulary:
102 Most Mispronounced Words
WORD

😢 INCORRECT


► Exercise for Voice Talent:
Add any words you don't know to your daily articulation practice:

 Click any word below to hear how it is pronounced (opens in new tab)

Acaí

ah-SAH-EE

ACK-ah-ee ; ah-KAI

Accessory

Ack-SESS-or-ee

Assessory

Affidavit

aff-ih-DAVE-it

Affadavid

Affluent

AFF-loo-ent

uh-FLOO-ent

Albeit

all-BE-it

all-bite, all-BAY-it

Ambrosia

"am-BROH-zhah"

 

Anise

"AN-ihss"

(British: uh-NEES)

Anonymous

uh-NON-uh-muhs

 

Antarctic

Ant-ARK-tic

Antartic

Arctic

ART-tic

Artic

Ask

Ask

aks, ax

Asterisk

ASS-ter-isk

Asteriks

Athletic

Ath-LET-tik

Athaletic

Athlete

ATH-leet

Athalete

Awry

uh – RYE

AW-ree

 

Barbed Wire

Barbed Wire

Bob Wire

Barbiturate

Bar-BIT-cher-ut

Barbituate

Bruschetta

Broo-SKETT-ah

brush-ET-uh

Candidate

CAND-id-ut

CAN-nih-date

Caramel

KEHR-ah-mehl"or KAR-ah-mehl

CAR-mul

Cavalry

CAV-ul-ree

Calvary (this is a completely different word)

Celtic

The C's are both  k sounds

SELL-tik

Chutzpah
"kHUT-spa" kH = slightly aspirated H. "U" as in "put"
 

Citizen
SIT-ih-zen
SIT-ih-sen

Clothes

A Very Soft [Th] Sound

Close

Comptroller

"con-TROLL-er"

"comp-TROLL-er" though becoming accepted

Colleague

"KAHL-eeg"

Don't pronounce the final ue.

 

Costs

 

Don't overdo the "sts"

Croissant

"kwah-SAHN"; "KWAH-sawn"; "kruh-SAHNT"

crescent

Data

Dayta most common, but DATa also correct.

 

WORD

😢 INCORRECT

Desktop
DESK top
DEStop

Digital
DIJ-ih-tul
DIJ-iddle

Dilate

Dilate

Dialate

Diphtheria

Di/F/Theria This Ph Is "F" Not "P"

Diptheria

Drown, drowned

Drown, drowned

Drownd, drownded

Edamame

"eh-dah-MAH-meh"

EH-duh-mame

Electoral

e-LEC-toral

e-lec-TOR-al

Environment
environment
envire-ment

Escape

Escape

Excape

Especially

Especially

Expecially

Espresso

Espresso

Expresso

Ethnicity

eth-NIS-i-tee

eth-NICK-ity

Etcetera/Etc

et – SET– er – uh

Ex-ET-er-uh, ex-SET-truh

Facilitate

fuh-SILL-i-tate

FA-sill-uh-tate

February

Feb-ROO-ary

Febyuary

Federal

Federal

Fedral

Foie Gras

"FWAH GRAH"

foy groy

Foliage

FO-lee-age

Foil-age

General
JEN-er-al
JEN-rul

Gif

Not a "J" sound, but a hard G

 

Government
GUV-ern-ment
GUV-er-ment

Gyro

JY-roh or YEE-roh

GEE-ro

Height

hite

hite-th

Hospital
HOSS-pit-ul
HOSS-piddle

Homage
HOM-idge, or "o-MAHJ" (French)
 

Hummus

HUMM-uhs

KHUM-uhs, HOO-mus

Internet
inter-net
innernet

Jalapeño

hah-lah-PEH-nyoh

hah-lah-PEE-nyoh

Jewelry

JOO-el-ree

JOO-ler-ee

Lease
leese
Leash

Liable

li-a-ble

LIE-bul

Library

Three syllables-li-bra-ry, not li-bary

 

WORD

😢 INCORRECT

Masonry

Masonry

Masonary

Mayonnaise

MAY-uh-nayz

Man-ayz

Miniature

MIN-ee-uh-cher

MIN-uh-cher

Mischievous

MIS-chuh-vus

"mis-CHEE-vee-us" NOT 4 syllables

Mozzarella

"maht-suh-REHL-lah"; "moht-suh-REHL-lah"

mozz-uh-rella

Niche

Nitch or Neesh are both correct. Ask for preference

"ni-chay"

Nuclear

NU-klee-ar

NUKE-you-ler

Nuptial

NUP-shull

NUP-shoo-ul

Often

The "t" is silent (most preferred pronunciation)

Hearing the "t" is becoming accepted

Parliament

Use a brief "Y" Sound After The L

Parlament

Particularly

par-TIK-yuh-ler-lee

per-TIK-leree

Pastoral

pas-TOR-al

 

Pecan

Options: "pih-KAHN"; "pih-KAN"; "PEE-kan"

 

Perspective
per-SPECK-tiv
 

Perspire

Per-SPIRE

Prespire

Phenomenon

fi-NOM-uh-nun

fi-NOM-uh-non

Picture

pic-shur" or pic-tchur

pitcher

Pollute

Pollute

Plute

Prejudice

PREH-juh-dis

 

Prerogative

pre – ROG– uh – tiv

per-OG-uh-tiv

Prescription

pre – SKRIP – Shun"

Perscription

Probably

Probably

Probly or Prolly

Pronunciation

Pro-nun-see-ay-shun

Pronounce-ee-ay-shun

Prostate

Prostate

Prostrate

Realtor

Realtor

Realator

Regularly

REG-yuh-ler-lee

REG-uh-ler-lee

Ricotta

rih-KAHT-tuh; "ree-KOH-tah

 

Sherbet

SHER-biht, no second "R"

"Sure, Burt"

Silicon

Silicon

Silicone

Sommelier

saw-muh-LYAY

some-AWL-ee-er

Statistics

stuh-TIS-tiks

suh-TIS-tiks

Supposedly

Supposedly

Supposably

Tamale

tuh-MAH-lee

tuh-male

Temperature
TEM-per-uh-cher
TEMP-uh-cher

Triathlon

Triathlon

Triathalon

Turmeric

TER-muh-rihk, ter-MARE-ik

TOO-mer-ick

Utmost

Utmost

Upmost

Wasn't

Wasn't

Wadn't

Wednesday

The first d and the second e are silent

 

Yolk
 

Yoke

WORD

😢 INCORRECT