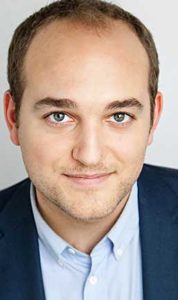 💥 Nearly Sold Out for 2020
Michael has very few remaining sessions available. Email executivedirector@schoolofvoiceover.com for availability.
Julliard-prize winning actor and acting coach Michael Curran-Dorsano is in the Twin Cities from LA on his way to Ireland for until mid-August.
Michael received his BFA in Drama at  Julliard where he received the John Houseman Award, has many IMDB credits, plus over a dozen audio books at audible.com. Catch him on TV in all five seasons of The Last Ship as Lt. Gator. Some of his favorite stage roles include Chris in All My Sons, Joe Bonaparte in Golden Boy, and Stanley in Brighton Beach Memoirs.
Michael describes his approach as "Acting is an ever evolving craft and art form for me. But when it all boils down, I always ask myself am I playing? Am I present? Am I open? Are the words coming out of my mouth authentic? But maybe most importantly—am I exploring some small facet of what it means to be human?"

Michael is an amazing acting coach. He can prepare you for anything. He's very thorough at helping you go deep and find things you didn't expect. Previous coaches sometimes left me frustrated. Michael's Julliard training is part of what really sets him apart from other coaches. 


AudioBook Mastery
Michael Curran-Dorsano
Michael teaches you 1-on-1 on mic for 40 minutes. All audio yours to keep. Online study materials included. Learn key voiceover audio book prep and execution techniques.
Learn from an audio book master teacher.
Get ready to work recording audio books!
FREE study course included: The critical prep steps when doing audio book work
• Session Length: 4o minutes
• Date/Time: Email me with at least three preferred dates and time ranges that would work for you
• Choose any Genre: Digital and printed scripts provided.
🔽 Click Here: AudioBook Mastery FAQ
▶ REGISTER NOW  $150  only $67!
🎧 How much experience do I need?
No experience necessary. Michael works with all levels of experience.
🎧 How much time is spent recording?
Most of it. Michael wants to get you on mic 1-on-1, working your audio book performance and acting skills.
🎧 What should I do to get ready?
Study the online prep information before or after your session. It's okay to just show up! We'll have everything ready for you. However, bring a water bottle if you have one, and complete the survey you'll see after you register—Michael wants to be ready for you!
🎧 What Audio Book Genres Can I Choose From?
While you are welcome to bring in your own books or scripts, printed or on your tablet, scripts will be provided for to choose from. Types of scripts may include: Multi-character / Multi-narrator 🔹 Fantasy/Sci-fi 🔹 Young adult 🔹 Educational / Technical 🔹 Mystery 🔹 Romance 🔹 History / Biography 🔹 Literary
▶ REGISTER NOW  $150  only $67!

Whatever you're working on, Michael can help you challenge yourself to achieve something emotional and difficult and wonderful.