Work with a top producer who directs you on a script in a simulated directed work session.
The "Build A Great Reputation" Workshop
Being great to work with in a directed session is the easiest way to build your reputation to get higher-paying gigs. Learn what it takes create a great reputation in a session.
We're bring you one of the best folks around to work with you—Joe Lovitt.  Chose your 90-minute time slot on Sunday, December 11
Black Friday Deal: Two workshops, two coaches, just $58! (about Payton).
 This is a man who knows the business of voiceover and voice acting from ALL angles, and is one of the highest-rated Voice Acting Expo coaches of all time! We want you to gain from Joe's years of valuable experience in this business. You will:
1.  Be directed 1-on-1 by Joe in a session with a small group
2.  Be warmed up by a pro VO coach before joining your session with Joe
3.  Sit in on some pro-directed sessions
4.  Have the option to later work privately 1-on-1 with Joe
Which Talent Are Hired Again and Again
Producer's Explanation:
"Your professional reputation comes from how well you take direction, fix your mistakes, and partner with me and the client vs. fighting us. "
Joe is here to help you be at your best in a professional situation to build your reputation. On big gigs, people talk! You build your reputation based on your performance in a directed session.
Taking Direction vs Partnering with Producers
Getting so many directions over a long session can feel adversarial. But you and the producer were chosen by the client to partner together to deliver what they are looking for. Understanding how to achieve that partnership is gold for your reputation.
Acting and Session Tips
Here are some guides to get you started:
Read the Acting Tips at "What is Voiceover?"
Home Studio
Don't push your voice to try to make it sound better—produce it properly from your home studio
Registrants! Joe would like to know more about you: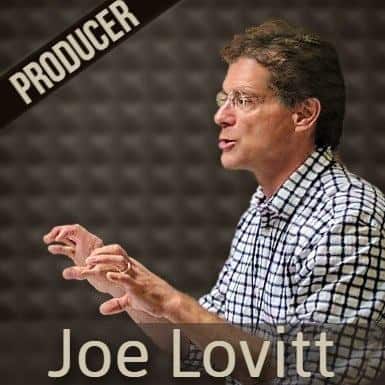 "Learn to partner with your producer"
About Joe Lovitt
Joe started in the business as a producer and ad writer, and later became a versatile voice talent, comic and film, commercial, stage and improv actor.

Represented by top agency NUTS talent, ltd, Joe helps beginners and pros feel completely at ease with the challenging process of a professional voiceover  directed session. He is one of the highest rated coaches from the Voice Acting Expo.
Workshop Preparation
For the best experience during the workshop while you receive direction, stand in front of a nearby microphone, either via headset, Bluetooth or standing studio mic. Minimal familiarity with Zoom required. You will receive your choice of start times and zoom link to attend after registering. 100% money-back guarantee.