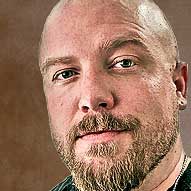 Trained and represented by Kate Lawrence-Baker of Moore Creative Talent, Jason Vogen has had great success as a working voiceover talent in the Twin Cities.
Jason coaches in a mentorship style that helps talent of all ages advance rapidly. Jason is popular as a coach with students both at the School of Acting and Voiceover and the Voice Acting Expo.
Jason also gave pinpoint suggestions to improve my read that I understood right off the bat.
I felt really comfortable working with Jason and also encouraged!